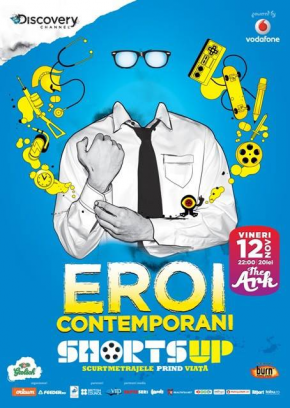 ShortsUP and Discovery Romania join their forces to create Contemporary Heroes, a new selection of award winning shorts that will come alive at The ARK. The Discovery movies heroes will offer live demonstrations and present photos from their adventures around the world. The evening will be completed by AMON, a Romanian DJ that juggles with various styles, like funky, breaks and drum and bass.
In the program: two BAFTA winners, three Oscar nominated shorts, the winner of the audience award at Clermont-Ferrand in 2007 and the winner of the grand trophy of Clermont-Ferrand in 2008. Also screening, seven local productions by Discovery Channel, staring Romanian characters: a marathon runner, a model aircraft constructor, a doctor that practiced in the remotest places on the globe, a motorcyclist that traveled to Mongolia, a diver, a motorcycle constructor and a guy that practices parkour.
Heroes aren't gone. They no longer throw themselves off of buildings to save the good people or climb skyscrapers like spiders, but, still, we recognize and admire them. The Contemporary Heroes will be at ShortsUP, in the movies and in flesh and bones, on Friday night, and the viewers are asked not to leave there inner superhero at home either.