Short films by Mungiu, Porumboiu, Adrian Silisteanu and Cecilia Felméri on the 1st and 2nd February at ShortsUP
At the 1-2 February weekend, ShortsUP comes up with the best way to make you smile and to "melt" the spirits of cinema lovers – two consecutive evenings of short and good comedies that explore the topic of contemporary narcissism, a collective art exhibition and an entertainment space that tolerates self-love manifestations. The Short Comedy Weekend, 2nd edition, will happen at the Patria theater starting with 8 PM. Watch the event's trailer. here.
The film selection includes acclaimed international short films and local productions across 13 years of authentic Romanian humor in 4 memorable short films. Each of these 4 stories' inspiration is the reality of the Romanian society, always in transition – an inexhaustible source of charming characters and events, no matter at what time.
The short film The Ditch (D. Adrian Silisteanu, Romania, 2012) will be shown in the Comedy Weekend's first day.
The Happiness Pill (D. Cecilia Felméri, Romania, 2012) is an ironic and moralist story about pre-built emotional comfort, brought to life by Tania Popa, Dana Voicu and Adina Cristescu. The film was granted a Special Award at TIFF and the Best Screenwriting Award at the CineMAiubit festival.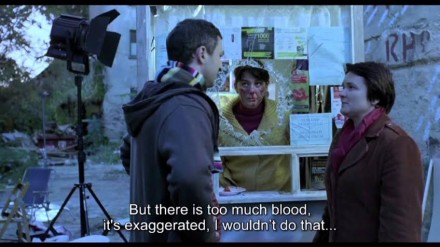 The directors Cristian Mungiu and Corneliu Porumboiu are present in the ShortsUP schedule with two first short films with reference to the comic of the'90. Paulista's Hand (D. Cristian Mungiu, Romania, 1999) is the description of a hopeless soap-opera-contaminated universe, while Journey to the City (D. Corneliu Porumboiu, Romania, 2003) introduces a shy teacher and a savvy driver who leave their village to buy in the city an Internet-connected computer and a lid for the mair's WC.