Saturday, January 22, at 7 p.m., ShortsUP has prepared the extraordinary event ShortsUP Hall of Fame that will bring together a special selection of shorts by famous directors like Lars von Trier, Tim Burton, Jean-Luc Godard and Roy Anderson, and an unprecedented unplugged concert by AB4 & friends, on the scene of Sala Radio.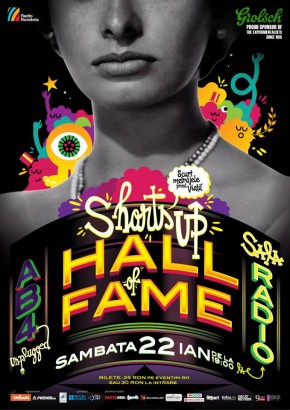 The short movie Tous les garçons s'appellent Patrick is an amazing example of Jean-Luc Godard's early work, the only time where he directed a movie written by someone else, and not just anybody – future legend Eric Rohmer. Lars Von Trier's graduation movie, Nocturne (1980) is a sample of visual poetry and narrative tension, which became his trademarks. And Fast Film (director Virgil Vidrich) is 2003 animation with more than 25 international awards, made up of images of iconic actors from famous movies. Completing the program, the Spanish "mocumentary" of 2009, Duck Crossing (director Koldo Almandoz), that represents an ironic vision full of famous references, by putting together movie bits that feature ducks – outshined by the presence of stars like Marilyn Monroe, Clint Eastwood, Charlie Chaplin and Emir Kusturica.
Besides the movies ShortsUP Hall of Fame will present an unplugged concert by AB4, the pioneer band of Romanian alternative rock that will come together for an amazing concert at Sala Radio, accompanied by some famous musicians. ShortsUP will roll out the red carpet for movies, music and all the guests attending the event, which will be welcomed by the paparazzi, like real stars.