A joint initiative of Oricum and Feeder.ro, in partnership with Vodafone Romania, launches a new type of urban cinematic experience whereby SHORT FILMS COME TO LIFE.
Founder of Oricum Association, Răzvan Crişan, says that the event on October 30 is " the beginning of a series which places short films in the center of unique cinematic experiences in Romania. We are honored to start the ShortsUP project alongside a director with an amazing contribution in redefining the Romanian film: Cristian Mungiu. The six hours event centers around "Tales of the Golden Age", which offers film enthusiasts the opportunity to enjoy a Cannes acclaimed production and, at the same time, take a short trip to the past, in the spirit of the film."
For the first time in Bucharest, the full version of Cristian Mungiu's "Tales from the Golden Age" will be screened at the National Contemporary Art Museum, located in the giant building of Casa Poporului, one of the most striking reminders of  the "golden age".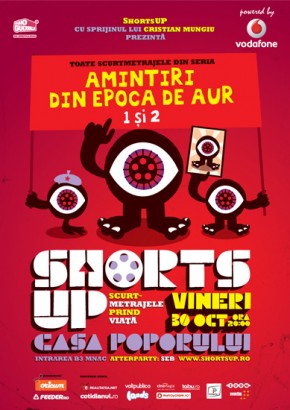 In an attempt to recreate the humour that helped Romanians survive during the 80s,  film director Cristian Mungiu will share some of his personal "tales" of the 80s that have not been included in the film. Cast members will also attend the event, which will then be followed by an after-party