Once a year, some of the best shorts at the Oscars, the BAFTAs or Berlin, Sundance, Clermont-Ferrand, Tribeca and Cannes can be seen in Bucharest for the first time or the only time, during a marathon that will test movie lovers' resistance until 5 a.m.
The 4th edition of The Long Night of the Short Movies will take place at the National Library of Romania, outdoors, on June 23. The never ending competition between movies and books will decrease "dramatically", as the shorts screened outside will be watched from the windows of a library containing million of volumes. The event will start with a live concert by THE MONO JACKS, and the audience will have a chance to view animated mapping and enjoy the playground, especially before and in between the movies.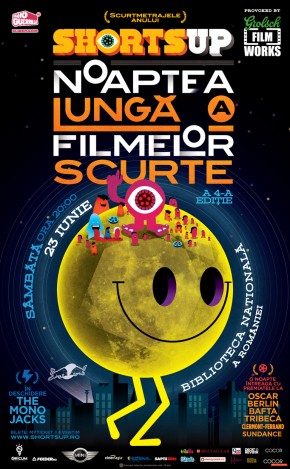 One of the star movies in the program, A morning stroll (r. Grant Orchard, Marea Britanie, 2011) won the shorts award at BAFTA, Sundance, was nominated at the Oscars, and is an animation based on a story by the famous postmodernist American author, Paul Auster. A New Yorker meets a chicken on the city streets: which one will prove to be more "urban" and "cool"?
The Long Night of the Short Movies will take place, simultaneously in Bucharest, Timisoara, Cluj, Brasov and Sibiu.