At the end of this week, on Friday, July 29, and Saturday, July 30, starting with 19.00, the Botanical Garden of Bucharest will become a holiday destination in the middle of the city, and will host two nights of short films, music, multimedia shows and workshops. Like any other ShortsUP experience, this is a foreign-friendly event, therefore all the short films will also be accompanied by english subtitles.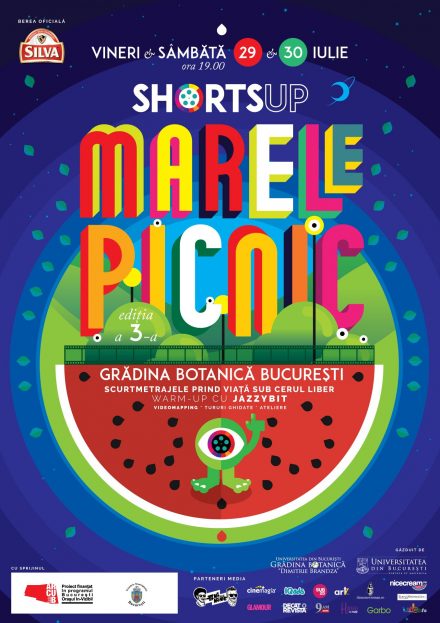 On the green carpet, shown on two inflatable screens, the short films of Marele Picnic will be stories about escape, the need for freedom and being in touch with nature, in two selections full of fiction, comedy and animation. The movies screened will be different for each night and will run from 21.30 to 23.30, while the audience can enjoy them by sitting on the grass, in the cool atmosphere provided by the garden, on picnic blankets.

This year, the stories on the screen will be augmented by the energy of jazz and funk music. The JazzyBit trio will heat up the crowd on Friday, with a live concert which will make viewers daydream and dance. On Saturday, the films will be screened after a video-mapping show which aims to bring out the best in one of the most beautiful green areas of our capital.
Tickets for Marele Picnic may be purchased in advance, via Eventbook, MyTicket and Eventim, at a price of 25 lei/night and 35 lei/full pass, as well as on location, at a price of 30 lei/night or 40 lei/full pass, subject to availability.